I'm more of a visual person and usually prefer to show photographs, but today I'm sharing a few words.
First, a little note about the lack of recent updates. In the past couple of months, I got caught up with planning, shooting, editing and traveling for more weddings than I ever thought I could handle. As a result, I put blogging and everything else on the back burner for a bit… But I promise I'm going to get back to it very soon. I have a lot of new work to share with you, both weddings and personal. So please stayed tuned.
Besides the craziness of the wedding season, this past week has been very special for me as a New Yorker, a photographer, a citizen, and simply a human being. On this Election Day and in the wake of Superstorm Sandy, I would like to share this story with you.
Last Friday, only 3 days after hurricane Sandy hit the East Coast, I photographed the intimate wedding of L+P in Manhattan. L+P are a same-sex couple from Dubai. Bear in mind that in the United Arab Emirates, same-sex relations are considered a crime, with punishments ranging from jail time, fines, deportation, and the death penalty. So you can imagine that for them, being able to celebrate and officialize their 16-year union, well, it means a lot. L+P managed to fly in to NYC the day before their wedding. But because of the storm, everything they had been planning for months was cancelled: where to stay, where to pick up their mariage license, where to hold their ceremony, where to host their reception… On the morning of their big day, they were still scrambling to make new arrangements. But they made it happen! Although all NYC Parks were closed, they stumbled upon the "Wedding Garden" situated right next to the "Avenue of the Strongest". They decided it was an auspicious place to get married, and rightly so! After a moving ceremony, we headed back to midtown for the reception. During their wedding dinner, they learned that the NYC Marathon, which they had trained for and were supposed to run on Sunday, was cancelled. In spite of everything, they kept such a positive and graceful attitude, and never lost sight of what really mattered: being surrounded by their loved ones to celebrate an important union. As they told me in the cab driving back to midtown "We NEVER thought that would be possible in our lifetime". All I can say is, Congratulations to my two awesome brides! And thank you NY State and President Obama for supporting marriage for LGBT couples and equal civil rights for every citizen.
Of course, making last-minute wedding plans and not being able to run a marathon might seem like small problems when you look at the big picture. In the past week, so many people in NY/NJ have been suffering from the consequences of Sandy. And as the temperatures are getting colder and a new storm is approaching, the situation is truly dramatic. Yesterday I witnessed some of the damage on Staten Island while helping out with the cleanup efforts. It may not look as photogenic and sensational as Manhattan in total blackout, but it's very problematic, and very close to home.
On that note, I want to give a shout out to Occupy Sandy Relief NYC. It's a grassroots organization that's doing an amazing job. Please consider volunteering with them, even just a few hours – every bit helps, and you'll enjoy doing it. You can help out in one of two Brooklyn hubs, or you can go out on the field. And since we're talking weddings here, check out their Sandy's Wedding Registry: chip in for Brooklyn or New Jersey.
I didn't take any "real" photos this past week, mostly because all my equipement was stranded in blackout Manhattan! A couple days before the storm, I had the genius idea of dropping off my gear to get it checked and cleaned – but after Sandy, the store (and half of the city) shut down for an entire week. A huge THANKS to my good friend Isabelle who lend me all her gear so that I could shoot L+P wedding. I'm not able to share images from this wedding, but here are a few iPhone shots from this past week (more on my instagram feed).
I promise that the next blog posts will have more photos and less poor writing.
Peace,
Fiona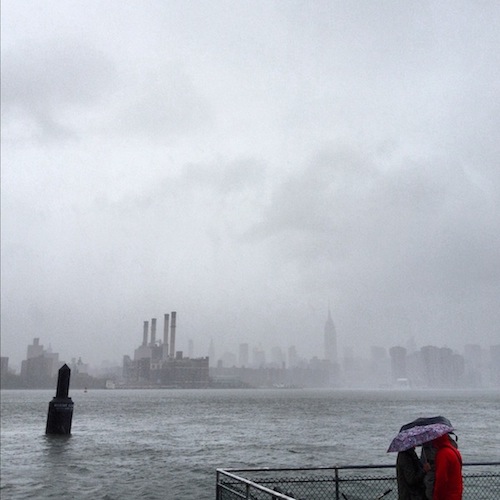 On Tuesday morning, a view from Brooklyn.
___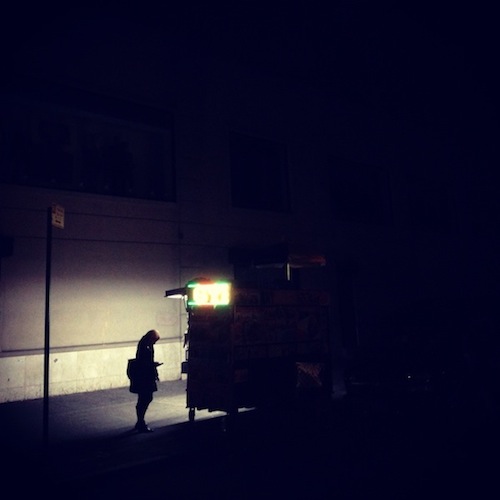 Thursday nigtht, total black-out in downtown Manhattan.
___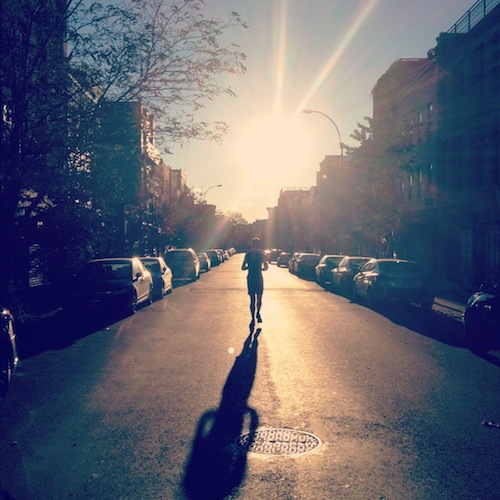 On Saturday, the only one at the "starting line" to cheer on my buddy Julien for his first (cancelled) marathon.
___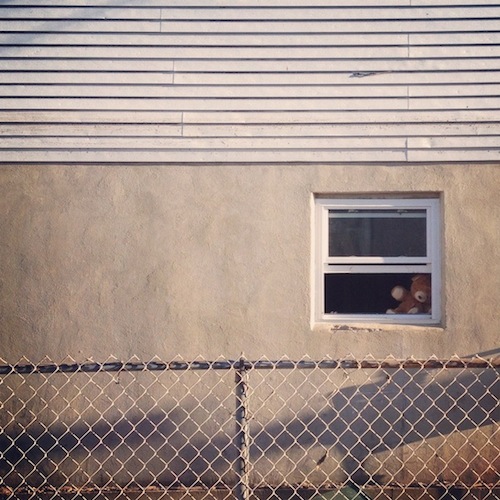 On Monday, walking through a badly damaged neighboorhood on Staten Island.
___