I'm beyond thrilled to be named one of this year's "Rising Stars of Wedding Photography" by Rangefinder Magazine. How exciting to be featured alongside very talented photographers, some of whom have been an inspiration for me. We were nominated by editors, bloggers, veteran photographers and wedding industry professionals, then picked by the editors of Rangefinder and PDN Magazine, which makes it even more an honor.
I'm so grateful for the trust and kindness I've gotten from clients, as well as the support from photographers and editors. I tend to follow my heart and intuitions, and all this confirms that I must be on the right path.
I'm especially thankful to Laura & Ben of Weddings By Two, who helped start my photography career. Besides their stunning work, they're also very cool people with great work ethic. They gave me a chance to learn and assist when all I had to show for a portfolio was basically this little book, and zero wedding experience. "Zero" as in I had never even been a guest at a wedding in my adult life. But still, they put a Canon 5D in my inexperienced and clumsy hands and gave me a chance. Many weddings later, I'm still clumsy (a very expensive flaw when you're a photographer) but I've gained so much personally and professionally. As an associate photographer for their studio, I got to shoot fun weddings and meet cool people along the way. Laura & Ben and the rest of the team –  Merci, it was awesome working with you!
Check out  the November issue of Rangefinder Magazine online or on your iPad. If you're old school, pick up a print copy on newsstands.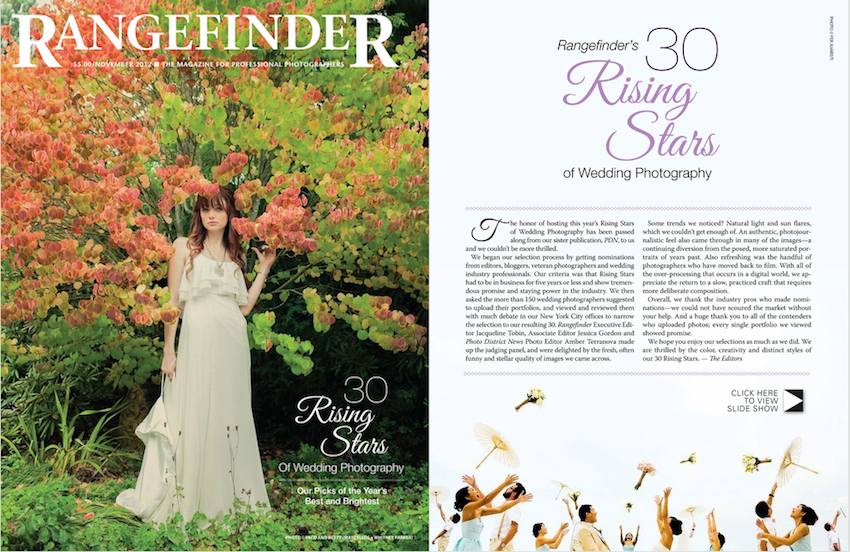 (Cover by Paco & Betty; right page by Fer Juaristi)